As one of the leading intruder and security alarm companies in Liverpool, we take pride in offering a huge selection of burglar alarms, security systems and perimeter alert devices for homes and commercial properties. We have devices and systems to suit most budgets, and everything from basic "bells only" alarms to fully featured early warning and surveillance systems that can be remotely monitored and that will alert the police if certain conditions are met.
We have many years of experience in the security business, and have a good understanding of what sorts of systems are needed for different properties. We have a team of technicians that are fully trained in how to install the alarms that we sell, and that will perform the installation quickly and professionally, leaving your property neat and tidy once they are done. We will aim to offer prompt installation at a time that suits you, and will communicate with you throughout the order process.
Modern security alarms are far different to the basic "is the door open" systems that you may remember from your youth. Today, there are web-connected devices that can be set, locked and unlocked using an app on your mobile phone. These are ideal for managers and parents, who want to make sure that their store opened on time, or that their children came home straight after school. The app will show you what time the alarm was disarmed, and what code was used, giving you the peace of mind that things are happening at the time you expected them to.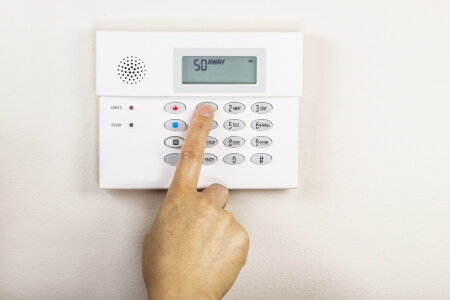 We stock several different brands of intruder and security alarm, and all of the products we sell come with robust guarantees. We offer a service package, so if you wish you can have a technician come out to check the alarm periodically, to perform basic maintenance, and reassure you that your property is still secure.
As a part of our sales process, we would be happy to look at your property and highlight any potential security issues so that you can remedy them. This could be side windows that are hidden the view of passers by, or a blind spot in your existing CCTV system.
Whatever package you choose, we are confident that you will appreciate the peace of mind that it gives you. Call us today to discuss your home or business security needs.